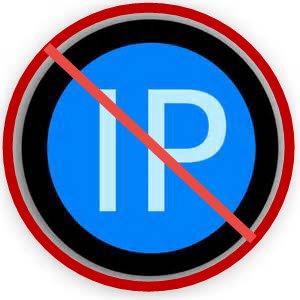 IP Block on My Sites
Blocked IPs

I have been using a new block method that is great offer by Godaddy.com, Bluehost and Hostclear. For several years I have asked for country filtering because many of my hosting accounts are to USA customers. Well they did second best- block by IP. I monitor all traffic using Wordfence. I also use the tools that WordPress with Jetpack provides. These all are great tools. When I see bad traffic or hackers, I add them to my list. Below, I listed the blocks I am currently using with most of my sites. It has made a world of difference in bad comments and hacking attempts.
Godaddy, Hostclear and Bluehost List
Below is a part of a day of traffic that was blocked. Just click photo to see details.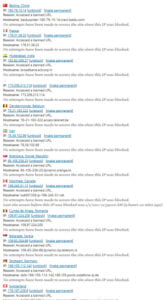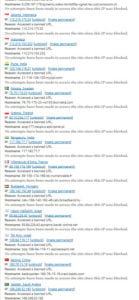 Server Setting
Beginning IP

 ▾

Ending IP
1.0.0.0/8
1.0.0.0
1.255.255.255
5.0.0.0/8
5.0.0.0
5.255.255.255
14.0.0.0/8
14.0.0.0
14.255.255.255
27.0.0.0/8
27.0.0.0
27.255.255.255
31.0.0.0/8
31.0.0.0
31.255.255.255
36.0.0.0/8
36.0.0.0
36.255.255.255
37.0.0.0/8
37.0.0.0
37.255.255.255
39.0.0.0/8
39.0.0.0
39.255.255.255
41.63.0.0/16
41.63.0.0
41.63.255.255
42.0.0.0/8
42.0.0.0
42.255.255.255
46.0.0.0/8
46.0.0.0
46.255.255.255
51.0.0.0/8
51.0.0.0
51.255.255.255
58.0.0.0/8
58.0.0.0
58.255.255.255
59.0.0.0/8
59.0.0.0
59.255.255.255
60.0.0.0/8
60.0.0.0
60.255.255.255
61.0.0.0/8
61.0.0.0
61.255.255.255
62.0.0.0/8
62.0.0.0
62.255.255.255
77.0.0.0/8
77.0.0.0
77.255.255.255
78.0.0.0/8
78.0.0.0
78.255.255.255
79.0.0.0/8
79.0.0.0
79.255.255.255
80.0.0.0/8
80.0.0.0
80.255.255.255
81.0.0.0/8
81.0.0.0
81.255.255.255
82.0.0.0/8
82.0.0.0
82.255.255.255
83.0.0.0/8
83.0.0.0
83.255.255.255
84.0.0.0/8
84.0.0.0
84.255.255.255
85.0.0.0/8
85.0.0.0
85.255.255.255
86.0.0.0/8
86.0.0.0
86.255.255.255
87.0.0.0/8
87.0.0.0
87.255.255.255
88.0.0.0/8
88.0.0.0
88.255.255.255
89.0.0.0/8
89.0.0.0
89.255.255.255
91.0.0.0/8
91.0.0.0
91.255.255.255
93.0.0.0/8
93.0.0.0
93.255.255.255
94.0.0.0/8
94.0.0.0
94.255.255.255
95.0.0.0/8
95.0.0.0
95.255.255.255
101.0.0.0/8
101.0.0.0
101.255.255.255
103.214.0.0
103.214.0.0
103.214.0.0
103.47.192.0/24
103.47.192.0
103.47.192.255
106.0.0.0/8
106.0.0.0
106.255.255.255
109.0.0.0/8
109.0.0.0
109.255.255.255
112.0.0.0/8
112.0.0.0
112.255.255.255
113.0.0.0/8
113.0.0.0
113.255.255.255
114.0.0.0/8
114.0.0.0
114.255.255.255
115.0.0.0/8
115.0.0.0
115.255.255.255
116.0.0.0/8
116.0.0.0
116.255.255.255
117.0.0.0/8
117.0.0.0
117.255.255.255
118.0.0.0/8
118.0.0.0
118.255.255.255
119.0.0.0/8
119.0.0.0
119.255.255.255
120.0.0.0/8
120.0.0.0
120.255.255.255
121.0.0.0/8
121.0.0.0
121.255.255.255
122.0.0.0/8
122.0.0.0
122.255.255.255
123.0.0.0/8
123.0.0.0
123.255.255.255
124.0.0.0/8
124.0.0.0
124.255.255.255
125.0.0.0/8
125.0.0.0
125.255.255.255
130.193.0.0/16
130.193.0.0
130.193.255.255
131.161.0.0/16
131.161.0.0
131.161.255.255
134.0.0.0/8
134.0.0.0
134.255.255.255
138.0.0.0/8
138.0.0.0
138.255.255.255
141.0.0.0/8
141.0.0.0
141.255.255.255
144.0.0.0/8
144.0.0.0
144.255.255.255
149.0.0.0/8
149.0.0.0
149.255.255.255
150.0.0.0
150.0.0.0
150.0.0.0
153.0.0.0/8
153.0.0.0
153.255.255.255
155.0.0.0/8
155.0.0.0
155.255.255.255
158.69.0.0/16
158.69.0.0
158.69.255.255
160.0.0.0/8
160.0.0.0
160.255.255.255
163.0.0.0/8
163.0.0.0
163.255.255.255
165.231.0.0/16
165.231.0.0
165.231.255.255
167.0.0.0/8
167.0.0.0
167.255.255.255
168.70.64.0/24
168.70.64.0
168.70.64.255
171.0.0.0/8
171.0.0.0
171.255.255.255
175.0.0.0/8
175.0.0.0
175.255.255.255
176.0.0.0/8
176.0.0.0
176.255.255.255
177.0.0.0/8
177.0.0.0
177.255.255.255
178.0.0.0/8
178.0.0.0
178.255.255.255
179.0.0.0/8
179.0.0.0
179.255.255.255
180.0.0.0/8
180.0.0.0
180.255.255.255
181.0.0.0/8
181.0.0.0
181.255.255.255
182.0.0.0/8
182.0.0.0
182.255.255.255
183.0.0.0/8
183.0.0.0
183.255.255.255
185.0.0.0/8
185.0.0.0
185.255.255.255
187.0.0.0/8
187.0.0.0
187.255.255.255
188.0.0.0/8
188.0.0.0
188.255.255.255
190.0.0.0/8
190.0.0.0
190.255.255.255
193.0.0.0/8
193.0.0.0
193.255.255.255
194.213.0.0/16
194.213.0.0
194.213.255.255
195.0.0.0/8
195.0.0.0
195.255.255.255
196.196.0.0/16
196.196.0.0
196.196.255.255
200.0.0.0/8
200.0.0.0
200.255.255.255
201.0.0.0/8
201.0.0.0
201.255.255.255
202.0.0.0/8
202.0.0.0
202.255.255.255
203.0.0.0/8
203.0.0.0
203.255.255.255
212.0.0.0/8
212.0.0.0
212.255.255.255
217.0.0.0/8
217.0.0.0
217.255.255.255
218.0.0.0/8
218.0.0.0
218.255.255.255
219.0.0.0/8
219.0.0.0
219.255.255.255
220.0.0.0/8
220.0.0.0
220.255.255.255
222.0.0.0/8
222.0.0.0
222.255.255.255
223.0.0.0/8
223.0.0.0
223.255.255.255